The five-year forward view presented plans to work towards a more collaborative and informative relationship between patient and healthcare professional. A patient-centred service means that patients are getting the best experience, putting patients at the centre of their own health and healthcare.
In this article, we provide some tips on developing a patient-centred service.
What is patient-centred care?
To understand how to develop a patient-centred service, it is imperative to know what it consists of.
Patient-centred care, as stated by NHS England, "starts with the patient". It revolves around the notion that the patient is in control of their health and the healthcare services that are provided for them.
Patient-centred care represents collaboration, power and pro-activeness, as the patient works alongside a healthcare professional in partnership to design and shape their own healthcare based on their needs and goals.
To form a greater understanding of patient-centred care, an effective patient-centred service mainly centres around the following ideas:
The person is treated with dignity, respect and compassion
Communicating and coordinating care between appointments and different services over time
Care is shared between a community health service and a hospital
Care is tailored to suit individual needs and what they want to achieve
Supporting individuals to help them understand and learn about their health
Finding ways to help them get better, look after themselves and stay independent
Being involved in their healthcare decisions
Benefits of a patient-centred service
Having a patient-centred service benefits the patient, practice and the healthcare professional greatly.
As such, there are many benefits to a patient-centred service, such as:
It improves patient outcomes by supporting patients with long-term conditions to manage their health and improve clinical outcomes. When individuals play a more collaborative role in managing their health and care, they are less likely to use hospital services, stick to their treatment plans and take medicine correctly.
Patients have the opportunity and support to make decisions about their care and treatment in partnership with health professionals are more satisfied with their care, are more likely to choose treatments based on their values and preferences rather than those of their clinician.
Individuals can gain more knowledge, skills and confidence in managing their health and healthcare. In turn, they are more likely to engage in positive health behaviours, which in turn, will create better health outcomes.
Person-centred care is good for healthcare professionals too- it increases staff performance and morale.
Putting staff at the heart of a patient-centred vision
NHS England and Public Health England provided a consultation document for the public named 'Facing the Facts, Shaping the Future'. The workforce strategy is about placing staff at the "heart of a patient-centred vision". To develop a patient-centred service therefore, staff members need to be actively involved in creating this vision.
NHS England has been drafting a workforce strategy to get staff members involved, by working pro-actively to create a patient-centred care service, one that will benefit them as much as the patient. As one of the many stated benefits of providing this service, staff morale and performance is a result of better patient experiences.
As healthcare professionals are the ones that can help create this vision, they must be aware of how to create a more positive patient experience.
Developing a patient-centred service
To develop a patient-centred service, you must effectively engage with patients, monitor their experience and improve their experience based on their feedback. Asking people if they are receiving the care that they need will give a good indication on that basis and make them feel more secure and cared for.
1) Patient involvement and experience
The first way to develop a patient-centred service is to put the patient at the heart of the service and improve their overall patient experience. A key part of patient-centred care is the patient being actively involved in their own healthcare.
Making patients central to their healthcare involves working collaboratively with people who use the service to support their development, skills and confidence. Patient-centred healthcare largely involves patients making informed decisions about their own health and healthcare.
There are many aspects which allow the patient to have a better experience. Based on Picker's Eight Principles of Patient-centred Care there are eight main components: respect for patients' preferences, co-ordination and integration of care, information and education, physical comfort, emotional support, the involvement of family and friends, continuity and transition and access to care. As a foundation for building a patient-centred service, following Picker's basic principles as a guideline may assist in developing this service.
Part of caring for patients also involves caring for their families; this is otherwise known as family-centred care. If the patient has the support and involvement of their families within their healthcare, they are more likely to react positively.
It all starts with the patient; listening to their needs and designing patient experience based on these needs.
2) Monitoring services
Monitoring patient experience is the key to developing a patient-centred service.
There are some examples of ways to monitor and evaluate patient experience. Some examples are as followed:
Friend and family surveys
GP Patient Surveys
Focus Groups
PPG Group
Compliments Boxes
Patient Member Participation Groups
3) Evaluating data based on feedback
Evaluating data and using it to improve on a patient-centred service, will give you the opportunity to focus on the areas that need developing. Surveys and feedback methods will give you the opportunity to improve your service.
Understanding what is being asked of the patient and analysing this feedback will help you move towards this.
For example, GP patient surveys give a specific indication of what areas need improvement. An example of a GP patient survey is presented below: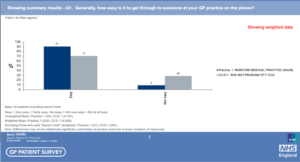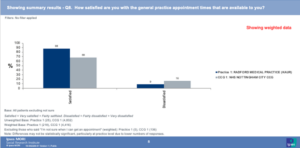 As shown from the answers presented in this particular GP survey, patients are less satisfied with the appointment times available to them in comparison to how easy it is to get through to someone on the phone. All of these aspects form a greater patient experience.
Focusing and working on the areas that customers feel less satisfied with, will result in better patient experience and will form a more effective patient-centred service.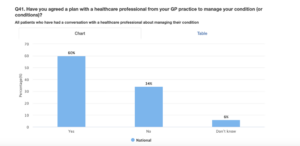 As seen from the table above, 34% of national NHS patients have not agreed on a plan with a healthcare professional to manage long-term conditions.
From the table below, a local GP practice shows that 83% of local patients did not have a conversation with a healthcare professional from their GP practice to discuss what is important to them when managing their condition(s).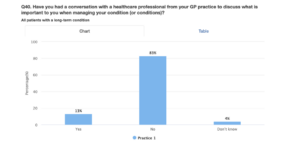 As part of a patient-centred service, patients with long-term health conditions should have an active role in their own healthcare. As seen from the chart above, this particular GP practice is scoring low on this, suggesting there were no discussions about managing their conditions and stating their healthcare goals. Thus, this would not particularly represent a patient-centred service.
Thoroughly understanding and analysing selected questions such as these, and developing based on what patients are feeding back, will give a basis for professionals to work with when building and developing a patient-centred service.
These issues can be improved by:
Having regular discussions about the patient's healthcare
Discussing the patient's long-term health conditions and their goals
Ask the patient questions such as 'What's important to you when it comes to your healthcare?' 'What would make things better for you?'
Allowing the patient to be involved in making important decisions about their health
Involving the patient's family in their healthcare
Setting out a plan of the patients' health care conditions and practical steps about how to help them
Contact Our Team Today 
If you need help on a tender, contact our experienced team of writers today on 03301 1331 041.
Alternatively, send an email to info@klowconsulting.com for more information and details.